My Office Apps was Recognized for its Advanced Technology by Progress© at The 2023 OpenEdge World Tour event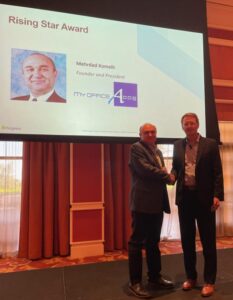 Progress (Nasdaq: PRGS) has unveiled the winners of the 2023 OpenEdge North America Partner Awards, recognizing partners who have made a significant impact through their utilization of Progress® OpenEdge®. This leading application development platform is trusted by over 100,000 enterprises worldwide to streamline the delivery of vital business applications. The award recipients were announced this week as part of the OpenEdge World Tour event in Las Vegas, dedicated to OpenEdge customers and partners.
John Ainsworth, Executive Vice President and General Manager of Application and Data Platform at Progress, highlighted the pivotal role of partners in ensuring customer success, stating, "Each awardee this year has crafted applications that effectively address intricate business challenges, demonstrating the transformative capabilities of Progress technology."
The OpenEdge North America Partner Awards honor partners who consistently go above and beyond, excelling in various categories and surpassing the expectations of the end-user community. Here are the distinguished winners of the 2023 OpenEdge North America Partner Awards:
Rising Star Award: My Office Apps The Rising Star Award recognizes the partner that is seeing success through its recent use of OpenEdge technology. They offer a high-quality business application that showcases the future of innovation in their industry. Meals on Wheels San Francisco chose My Office Apps' fully integrated, cloud-based and OpenEdge-powered ERP system, Kechie, to transform its warehouse and inventory management — enabling it to reach its goal of delivering up to 30,000 meals a day and more than two million meals a year.